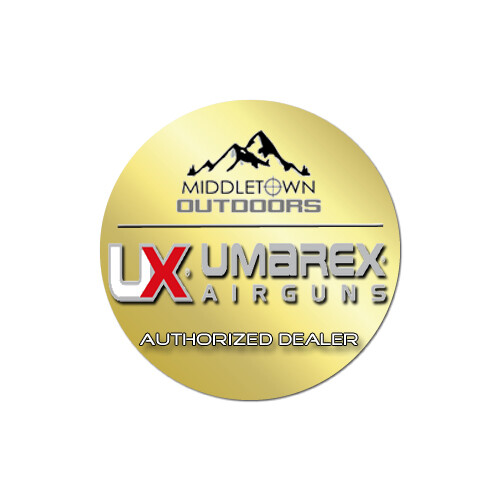 Features
Full metal construction
Steel barrel
CO2 powered
Fully licensed by Beretta
Contoured checkered grips
8 shot rotary clip fits all .177 pellets
Slide mounted safety
Includes foam lined case
The Beretta M 92 FS has been adopted by the Military, Police, and Special Forces throughout the world. Now, based on the original design, this unbelievably realistic CO2 powered Beretta air pistol is destined to become a "must have" for every air gun collector and shooting enthusiast. M92 owners won't believe the realism and accuracy offered by this Beretta pellet gun. Packed in a foam-lined plastic gun case. Two 8-shot rotary magazines included.
Details For Beretta M92FS .177 Cal :
About Umarex
Since 1972 Umarex has created a world of adventure for sport shooters, recreational shooters and hunters. Its high-performance, high quality models permit training under highly realistic conditions.
| | |
| --- | --- |
| FPS | 425-450 |
| Color | Black |
| Gas | CO2 |
| Caliber | .177 Pellet |
| Magazine Capacity | 8 Rounds |
| Hop Up | No |
| Fire Modes | Semi auto, Safety |
| Package Includes | Gun, Magazine, and Manual |
| Manufacturer | Umarex, Licensed By Beretta |
| SKU/MPN | 2253000 |
ATTENTION: Airsoft and Pellet Guns have federal regulations as well as regulations per state. Not all states share the same regulations but those regulated states have made either Airsoft / Pellet Guns illegal or have rated them as a dangerous weapon and therefor a Firearms Permit is required. For those areas, we will not ship any Airsoft / Pellet Gun products. Please see the list of areas below and always do your research when purchasing any product with specific regulations. Contact us if you have any questions!
States Restricted From All Airsoft/Airgun Products: Arkansas (Airsoft Restricted), New Jersey, California (California Residents MUST follow SB199 regarding the additional markings required for Airsoft guns. Customers are responsible for ensuring their airsoft gun meets the requirements per SB199 regulations *Does not apply to BB guns)

Cities Restricted From All Airsoft/Airgun Products Indefinitely:

 

New York City* (5 Boroughs, Rockaways, Yonkers*), City Of Chicago & Cooks County Area, City Of Philadelphia, City Of San Francisco, City Of Washington DC

*NEW YORK CITY RESIDENTS MAY ONLY PURCHASE AIRSOFT GUNS THAT ARE CLEAR OR ARE PAINTED FULLY IN BRIGHT COLORS.
Additional Restrictions: California Residents MAY NOT purchase any Pepper Ball projectiles or devices that include Pepper Balls as per: 
PENAL CODE of CA SECTION 12401-12404
Payment & Security
Your payment information is processed securely. We do not store credit card details nor have access to your credit card information.